FEATURE SPOTLIGHT: 
DISPLAYS
WHAT IT IS
Raven has two screens that can display a variety of useful information. Raven is your savvy dashboard.
HOW IT WORKS
Raven is connected to your car's Onboard Diagnostics Port (OBD), which provides many information points on your vehicle including vehicle speed, fuel levels, diagnostic codes, and more. Raven also contains an array of sensors including GPS, accelerometer, and magnetometer. Additionally, Raven is connected to the internet through its LTE cellular chip.
Information derived from the vehicle's OBD port, the sensor array and internet sources can be displayed on Raven's screens.
These are essentially mini-apps running on Raven. We currently have more than a dozen; more are on their way.
HOW TO CONFIGURE RAVEN DISPLAYS
Raven Screen Editor

In the mobile app, go to the Raven screen settings (Settings > Preferences > Raven Screen Editor) and click on the Screen Editor.

Set your screens

There are currently four groups of configurable displays. If these are already configured to your liking, select the group you wish to display on your Raven.
For more customization, tap on the left or right displays in the app and then select the desired Widget.
Your Raven screens will update immediately.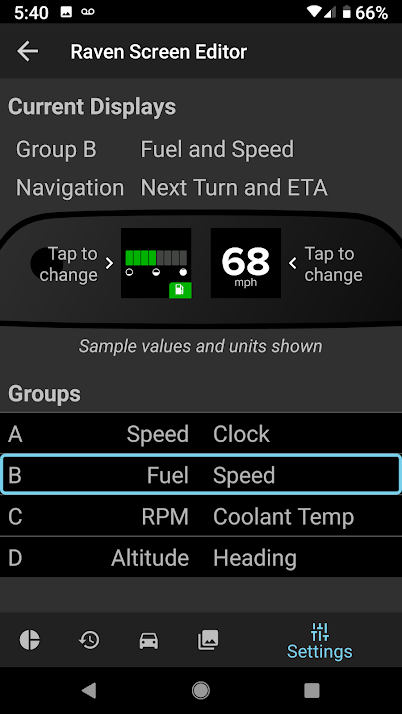 VIDEO TUTORIAL
RAVEN DISPLAYS IN DETAIL
| | | |
| --- | --- | --- |
| Screen | Name | Description |
| | Next Turn | Navigation : Next turn (See the Navigation Spotlight for more information) |
| | Estimated Time of Arrival (ETA) | Navigation : ETA of current trip (See the Speeding Alerts Spotlight for more information) |
| | Altitude | Altitude of the vehicle (above sea level) |
| | Compass | Current direction of travel. |
| | Fuel | Current fuel level |
| | Speed and speed limit | The vehicle's current speed and speed limit information (if available). The speed limit is shown in the lower, right corner. If the vehicle is over the speed limit, the speed limit is shown in red. If the vehicle is above a set speeding threshold, the speed limit will be red, flashing and will sound a tone. (See the Speeding Alerts Spotlight for more information). |
| | Distance Travelled | The total distance travelled this trip. |
| | Date and time | The current time is shown as the primary display. The current day of the month is shown in the lower right corner (secondary display). |
| | RPM | Engine RPM |
| | Outside temperature | The temperature outside your vehicle. This is based on your vehicle's external temperature sensor. |
| | Engine Coolant Temperature | Engine coolant temperature |
| | Blank | A blank screen. |