Raven is automatically gesturing too often Follow
If your Raven is mounted too close to your steering wheel, too close to the dash, slanted downward or is moving due to a loose mount this could cause frequent unintended gestures (short videos). If alignment is not an issue, the device may be gesturing due to an adhesive layer that needs to be peeled off. Follow the mounting directions below to rectify the issue.
Do not stack anything between the mount, adhesive, and dash:
Do not tilt Raven downward:
Incorrect: Tilted Correct: Level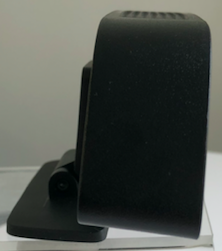 Incorrect
: Tilted
Correct
: Level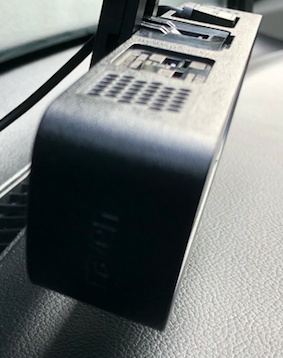 If adjusting the location and view of Raven does not fix the gesturing issue, there may be a hidden plastic film on Raven's screen. Indications of an additional plastic film include:
Under bright lighting Raven's screen does not look shiny and black

Tiny bubble(s) on the bottom left corner of the screen. (See below)

The screen easily scuffs
To remove the plastic film:
Using a firm but non-abrasive tool, such as a business card, lift the corner of the film.

Peel the remainder of the film off with your fingers.
*Proximity sensors on Raven are located in the center just above the displays on the front cover. If there is an object directly in front of the proximity sensor (within 10") then false gestures might be detected.